Starting a business from scratch ain't child's play! Business owners are always on the lookout for cost-effective accounting software that isn't just easy to use and build but also offers maximum features to cover their accounting needs. Despite the widespread availability of multiple accounting software catering to diverse business needs, there is only a few that stand out from the rest.
Talk about one of the most versatile, easy, and popular accounting software in the small-medium business space, and the name "Quickbooks" pops up immediately. So, the question arises what is Quickbooks and how to use Quickbooks?
What is Quickbooks?
Well, simply put, Quickbooks is one of the best accounting software conceptualized and designed for small and medium-scale businesses to help them manage their income and expenses while staying at the top of their financial game. The Quickbooks repertoire includes a wide array of accounting and bookkeeping functions such as invoicing, paying bills, generating customized reports, and preparing tax statements.
If your small-medium-scale business is growing exponentially and you have envisioned moving away from the traditional style of manual bookkeeping or, better still, you need a robust upgrade to your current accounting software, Quickbooks is the answer to your multifarious accounting questions.
In this article, we'll discuss how to use Quickbooks accounting, the benefits Quickbooks offers over other accounting software, and how it benefits your small business.
How to Use Quickbooks for Your Small Business?
If yours is a new business and you're looking to scale your accounting operations, Quickbooks bookkeeping is your go-to best accounting software. Here's how to use Quickbooks and 9 ways small businesses could benefit from it: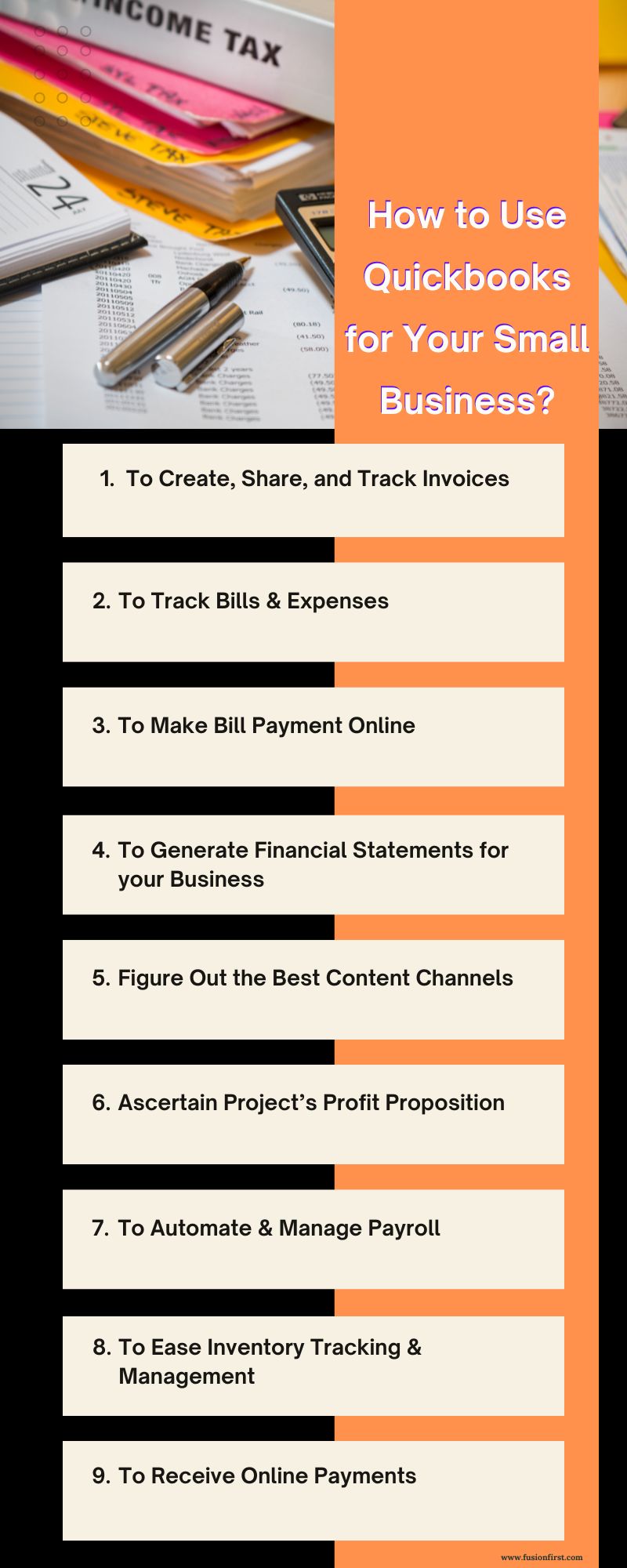 To Create, Share, and Track Invoices – Create, print, and email invoices to your customers, view outstanding invoices and days the payments are overdue.
To Track Bills & Expenses – Seamlessly track your bills and expenses by syncing your bank and credit card accounts with Quickbooks, entering bills into Quickbooks, and generating an A/P report with current and past due bills.
To Make Bill Payment Online – Pay bills, single vendor, or multiple vendors online with Quickbooks via bank transfer or credit card.
To Generate Financial Statements for Your Business – Generate and print Profit & Loss Report, Balance Sheet, and Statement of Cash Flows to have a clear picture of your business's financial health at any given point.
To Monitor Employee Time & Expenses – Track employee time for billing purposes and scale up the accuracy levels by eliminating the use of manual timesheets.
Ascertain Project's Profit Proposition – Create different projects, manage and assign income/wages, track costs, pre-empt sales and estimates, and ascertain the project's profitability.
To Automate & Manage Payroll – Calculate, manage, and run automated payrolls while minimizing manual errors, pay employees directly through Quickbooks via bank deposit or cheque, and calculate, fill, and e-pay local taxes.
To Ease Inventory Tracking & Management – Track inventory, allocate the cost of goods sold, manage/update the inventory, generates reminders to re-order inventory at a certain level, and generate inventory status reports at any given time.
To Receive Online Payments – Facilitate receiving online payments from your customers via quickbooks giving them the option to pay online directly from their invoice.
List of Accounting Software for Small Businesses-Source:Investopedia
7 Compelling & Unique Benefits of Quickbooks Over Other Accounting Software – Switch Now!
Customer-oriented

Quickbooks has a definite edge over other accounting software because it is easy to use and is largely designed while keeping a small business and its daily accounting needs in mind. So, if you're a start-up and don't even have a full-fledged accounting department yet, it is fairly easy to understand and use by anyone.

Makes Taxes a Child's Play

Calculating, filing, and paying taxes on time can be a dreadful sight for any small business without adequate staff support. However, with Quickbooks, you can be assured of filing tax reports and monitoring business income correctly, and on time.

Intuitive, Scalable, & Evolving

Covering the loopholes left by traditional accounting and bookkeeping software, Quickbooks offers ample room for scalability and improvement when it comes to managing your business efficiently. It empowers small businesses with new and beneficial features regularly to help them stay ahead of their business function curve.

Helps You Access Financial Statements at the Tap of a Button

Quickbooks records, manages, and processes all your income and expenses in real-time to help you access your business's financial statements like Profit & Loss Statement, Cash Flow Statement, Balance Sheet, and Taxes Filed Report at any given time at the tap of a button. These statements come in handy while evaluating your business's financial health, applying for loan/credit, and auditing purposes.

Comes at an Affordable Price Point

Choosing the best accounting software for new businesses while operating on a shoestring budget can be quite a task. Here's where Quickbooks scores an edge over traditional accounting and bookkeeping software as it is extremely affordable and is specifically designed to keep start-up businesses' budgets in mind. Quickbooks packs robust accounting features at a very cost-effective price and offers the flexibility to scale to higher plans in the future without losing the current data.
Read More on Accounting & Bookkeeping:
3 Questions to Ask when Outsourcing Bookkeeping or Accounting
Bottom Line
We at Fusion First, have ample experience in how to use Quickbooks and empowering small businesses to choose the best accounting software that aligns seamlessly with their needs. We are here to help you smooth this transition with our dependable, affordable, and industry-relevant bookkeeping and accounting services. We fuel small and medium-scale businesses to step up the ladder of growth with our best accounting support services. Arrange to receive a free consultation call now!